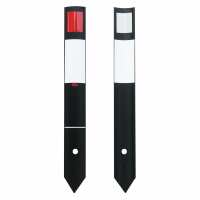 Wychwood Marker A Flexible Verge Post The Wychwood is a flexible verge post that is designed to bend and withstand multiple collisions. High quality reflective top area and an economical design make it perfect for most verge post marking applications. Manufactured from moulded spring back plastic, it will flex right back into shape after being hit or run over. Large reflective area that conforms to RI EN12899-2 class R2.Almost impossible to damage permanentlyComplies to both European and British quality Standards.Made in the UK Suitable Uses for the Wychwood Verge Post Marking Hazardous bends within roads.Marking entrancesMarking vergesWarning of Hazards near road sidesCreating a barrier between two carriageways. Installing the Wychwood Marker Installation of the Wychwood post could not be easier. All you need to do is push it into the ground, or use a mallet if the ground is firm. The hole is provided in the base of the Wychwood post in case you are setting it into concrete so that the post cannot be removed.
About Start Traffic UK:
We are a Midlands based traffic management distribution company who take pride in our friendly and flexible service.

Whether you are trade or a sole trader, we offer quick delivery, unmatched quality and low prices nationwide!

We offer the complete package, aiming to save you both time and money.
Visit Product Page
Phone:
01905 794875
Email:
admin@starttraffic.uk