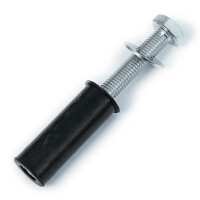 M10 Rawlnut Tarmac Fixing For securing speed bumps to Tarmac and Asphalt surfaces as well as many other applications. This fixing type is ideal for distributing the load as evenly as possible into surfaces such as tarmac and asphalt, where traditional shield type fixings cause breakup of the material. This is the appropriate fixing for securing our speed bumps to tarmac and asphalt surfaces. It works just as well in many other solid materials. You will require four of these per centre section and two per end section of speed bump. Please see the downloads tab for the datasheet on using this fixing. This part contains 1 x M10 Rawlnut 1055 Rubber Fixing 1 x M10 x 100mm Hexagon Set Screw 1 x M10 Penny Washer Should you require a matching 20mm drill bit, we have them in our fasteners and fixings category - see related products. Installation
About Start Traffic UK:
We are a Midlands based traffic management distribution company who take pride in our friendly and flexible service.

Whether you are trade or a sole trader, we offer quick delivery, unmatched quality and low prices nationwide!

We offer the complete package, aiming to save you both time and money.
Visit Product Page
Phone:
01905 794875
Email:
admin@starttraffic.uk