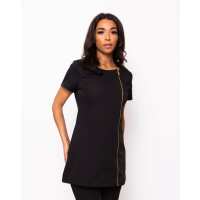 Womens Hero Beauty Tunic with a round collar and a side fastening gold zip. This Beauty Tunic also features a flattering tailored fit and shoulder pannel detail. The garment is made from high quality 4-way stretch material, the composition of which is 96% Polyester and 4% Elastane. The washing instructions for the Womens Hero Beauty Tunic are 40 Degree Wash | Wash as Synthetics | Line Dry | Dry Clean | Iron Medium. This Beauty Tunic measures 30 inches. Product Code: SB1511 Colours: Aubergine SB1511AU-GDZ, Black SB1511B-GDZ and Navy SB1511N-GDZ
About Salonwear Direct:
Award-winning beauty uniforms with modern, fashion-led salon wear styles that are made to last. Choose from our wide range of excellent beauty tunics, dresses, trousers and more!
Visit Product Page
Phone:
+44(0) 113 237 9028
Email:
ilan@salonweardirect.co.uk
Location:
14 Buslingthorpe Green, Meanwood,