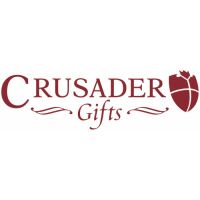 Message on the card inside reads: "You will always have my heart" Height: 14cmSupplier Reference: 26142Supplied in a branded gift boxHeart of Gold was inspired by a young cancer patient, Scott Kristopher Innes, at Children's Mercy Hospital in Kansas City.Scott's boundless and positive energy reflected on those around him, and as a result, good things continue to radiate from his spirit. His courageous spirit and kind smile showed me how one little heart of gold can continue to bring so much love, joy and comfort to others. It is my hope that this figure expresses the pure and honest affection between a child and those who love and care for him." - Susan LordiSusan Lordi and Enesco will donate 65p to Great Ormond Street Hospital Children's Charity for every Heart of Gold figurine sold.
About Crusader Gifts:
Crusader Gifts is a family owned online gift shop, supplying quality gifts for all occasions.
Visit Product Page
Phone:
0115 940 6060
Email:
webmaster@crusader.co.uk
Location:
Oxford House18 Easthorpe StreetRuddington