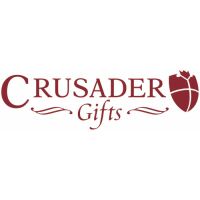 From the World of Beatrix Potter Alphabet Collection. Height: 7.0cm. Supplied in a Branded Gift Box This charming Alphabet collection features letter figurines paired with individual characters from the books. The green letter D features Hunca Munca the mouse, sweeping with her dustpan and broom. In The Tale of the Two Bad Mice, she and her husband Tom Thumb vandalise a dollhouse and then go about cleaning it in apology.The complete collection of letters makes a delightful nursery decoration. Another popular idea is to select letters individually to spell out a child's name.
About Crusader Gifts:
Crusader Gifts is a family owned online gift shop, supplying quality gifts for all occasions.
Visit Product Page
Phone:
0115 940 6060
Email:
webmaster@crusader.co.uk
Location:
Oxford House
18 Easthorpe Street
Ruddington