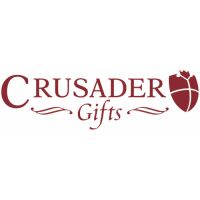 Message on the card inside reads: "Love and protect thee, forever"Height: 15 cm Supplied in a branded gift boxPart of the Willow Tree Family Collection The Willow Tree Guardian represents the overwhelming feelings of motherhood, and the desire to protect your new baby forever. The image of an infant cradled closely in her mother's arms is a symbol of the tremendous love that a mother experiences when holding her new child. This figurine could suggest a guardian spirit of protection. She could also be comforting to someone who has lost a child; a reminder of the love and caring a mother always feels, regardless of where her child is. The word 'thee' is used in the sentiment as an intimate way of talking to an infant, Susan Lordi says that she feels the word has a poetic sound and shows reverence and tenderness. It's the sort of word reserved for someone you love.
About Crusader Gifts:
Crusader Gifts is a family owned online gift shop, supplying quality gifts for all occasions.
Visit Product Page
Phone:
0115 940 6060
Email:
webmaster@crusader.co.uk
Location:
Oxford House
18 Easthorpe Street
Ruddington