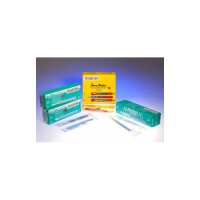 Box (10) The No.11 is an elongated triangular blade sharpened along the hypotenuse edge and with a strong pointed tip making it ideal for stab incisions. Used in various procedures such as the creation of incisions for chest drains, opening coronary arteries, opening the aorta and removing calcifications in the aortic or mitral valves. The No.11 blades fit Handles 3, 3L, 3 Graduated, 5B, 7, 9, B3 and B3L.
About BF Mulholland Ltd:
BF Mulholland Ltd is a full service Dental Dealer supplying consumable, equipment and repairs worldwide.
We have recently branched out into the computer software business as well and offer bespoke back up software.
Visit Product Page
Phone:
02894452668
Email:
info@bfmulholland.com
Location:
58 Glenavy Road