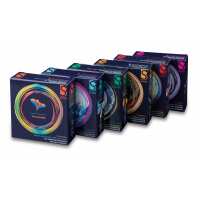 All of our condoms unlike other brands are coloured, scented and contain 600mg of lubricant - 300mg more than other condoms. A great selection to insure intense pleasure. All made with high quality latex and lubricated for your comfort and sensitivity, this package include Ribbed, Dotted, Thin and 3 in 1
About BeSafe Corporation Limited:
Besafe is one of the best brand for condoms. We offer high quality, premium personal care products in our condom range designed to improve the quality of the intimate life. As well as being affordable we know that we have the safest 'barely there' products as well as those designed to offer greater enhancement to love.
Visit Product Page
Email:
besafeuk@besafe.uk.com
Location:
Address: BeSafe Headquarter: BeSafe Corporation LimitedUnit 11,Brompton Industrial EstRichmond,DL10 7SNUnited Kingdom Email: Besafeuk@besafe.uk.comRegistration No.: 06408274