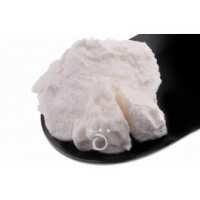 BOTANICAL NAME
Butyrospermum Parkii
EXTRACTION METHOD
Hand extracted by Akoma and refined and deodorised in EuropeSUGGESTED USE
Cosmetic use only
BENEFITS
We are proud to confirm that our shea butter products received both Fairtrade certification (from the Fairtrade Foundation) and organic status (from the Soil Association) in 2009. Our Fairtrade Pure Organic Shea Butter is refined using natural clay and is as beautiful as you can get it.
Other products on the market offer highly refined white shea butter. Such products have been stripped of their nourishing properties and supplemented with extra ingredients to replace those lost in the refining process.
Be kind to your skin and try the nourishing goodness of our Fairtrade Organic Shea Butter.
The benefits of our Refined and deodorised Shea Butter
Renowned for its health benefits, shea butter has been used by Africans for thousands of years. It is unusual from other cosmetic products in that it actually encourages your skin to absorb moisture from the air ensuring that your skin becomes softer and stays moisturised for longer. Regular users of our Fairtrade Shea Butter notice they have softer, smoother, healthier skin.
What is the source of our Fairtrade Organic Shea Butter?
Shea butter comes from the Karite tree, also known as women's gold™. This tree grows in the Savannah regions of West Africa from Senegal in the west to Sudan in the east and onto the foothills of the Ethiopian highlands.
Who should use our Fairtrade Organic Shea Butter?
Our Fairtrade Organic Shea Butter is suitable for a variety of skin types. Try replacing your current jar of skin cream with our product and see the difference. Keep a jar in your medicine cabinet, it can also be used to soothe the minor skin injuries that occur during daily life.
What can you use our Fairtrade Organic Shea Butter for?
Our Fairtrade Organic Shea Butter can be used to help ease a variety of skin conditions, including eczema, dermatitis, psoriasis, minor skin irritations, extreme dryness or toughness, stretch mark, burns, cuts and small skin wounds, sun burn, insect bites, ageing marks, fungal infections, scars, dandruff and many more.
It can also help protect against extreme cold weather and even protect your muscles before and after strenuous exercise.
PRECAUTIONS
None known
About Akoma Skincare:
At Akoma, we do business in a way that's good for everybody.

Our all-natural skin care and spa products are both high quality and great value.
The pure plant ingredients used have all been specially chosen for their natural healing properties, giving a wonderful sense of comfort and luxury to our products so you can enjoy using them day after day.

Our growing customer base around the globe choose Akoma because the products are so easy to use and gentle on your skin.
Visit Product Page
Phone:
01332613967
Email:
support@akoma.zendesk.com
Location:
Unit 9A Sawley ParkNottingham RoadDerby, ,