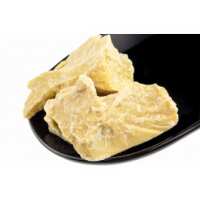 BOTANICAL NAMETheobroma cacaoEXTRACTION METHODExpeller Pressed SUGGESTED USEFood and CosmeticsBENEFITSThe cocoa trees of which our butter is made is cultivated in Dominica. It contains about 5 IU of vitamin E per ounce and can be used as an emollient, skin softener and proectant.
Common uses: Our Cocoa Butter may be used in a variety of cosmetic, toiletry and pharmaceutical applications to reduce dryness and improve skin flexibility.
Food: Try using our cocoa butter to make cakes, smoothies, deserts and ice cream
Skincare: Use as a skin moisturiser or in conjunction with massage oils and our Virgin Organic Coconut Oil.

Ingredients: 100% Cocoa ButterPRECAUTIONSNone known





-
About Akoma Skincare:
At Akoma, we do business in a way that's good for everybody.

Our all-natural skin care and spa products are both high quality and great value.
The pure plant ingredients used have all been specially chosen for their natural healing properties, giving a wonderful sense of comfort and luxury to our products so you can enjoy using them day after day.

Our growing customer base around the globe choose Akoma because the products are so easy to use and gentle on your skin.
Visit Product Page
Phone:
01332613967
Email:
support@akoma.zendesk.com
Location:
Unit 9A Sawley ParkNottingham RoadDerby, ,