"

We recently used Imove International to move all of our household items from UK to Thailand, and found the entire process from initial quote to final delivery very easy. We had a sole use 20ft container, which was perfect for the contents of our 2 bedroom house. The chap who came to do the quote was able to reassure us that the container lorry would be able to reach our house ok, as that was one of our worries. The 2 man packing team arrived at 8:30am on the Thursday and set about wrapping and boxing everything. I can't speak highly enough about how hard they worked that day - it was virtually impossible to get them to stop for a tea break. The only thing it would have been useful to know in advance at that stage was that they wanted us to remove the pedals from our 4 bicycles, and turn the handlebars so that they were in line with the wheels, but it was sorted in a matter of minutes. The following day a 3 man team turned up and completed the packing. The lorry was due a 12:00, but in fact got delayed until about 3:00pm. As the weather was good, the lads moved everything out on to the front drive in the meantime, in order to make the loading faster. I had asked the neighbours to leave the communal parking area free for the day, which made it much easier for the lorry to manoeuvre when it arrived. The loading only took about 30 minutes, and we waved goodbye to our goods, en route to Felixstowe Docks. The thing that amazed me most was that there was not a single scuff mark left on the internal walls of our newly decorated house!

Imove had provided us with a link to a web portal which had all the details of our shipment updated on it, including estimated arrival date in Thailand. It also included the name of the ship our container was on, and I was delighted to discover a web site (https://www.marinetraffic.com) where I could track it's progress in real time. (Note to Imove - perhaps you could add that link to your web portal?). About a week before it was due to arrive in Thailand the agent at this end contacted us and talked us through all the paperwork necessary for customs clearance at this end. The ship arrived exactly on schedule, and we visited the agent to drop off passports, ID cards, etc that they needed to clear the shipment with customs. That went very smoothly, and when we returned to the agent to collect our documents we got to meet the driver who was going to deliver the shipment to our house in northern Thailand - a 700km journey. Luckily I was able to give him our exact location on Google Maps, which avoided the hassle of trying to explain a rather obscure location.

The lorry arrived exactly on schedule, at 8:30 on a Sunday morning, and again it only took the 4 lads about 30 minutes to unload it. They did offer to unpack everything and remove all the packing materials, but we declined that, as most of our stuff will probably remain in boxes for the next few months while we build a new house here.

So, all in all it was a very simple process, and very professionally managed.

"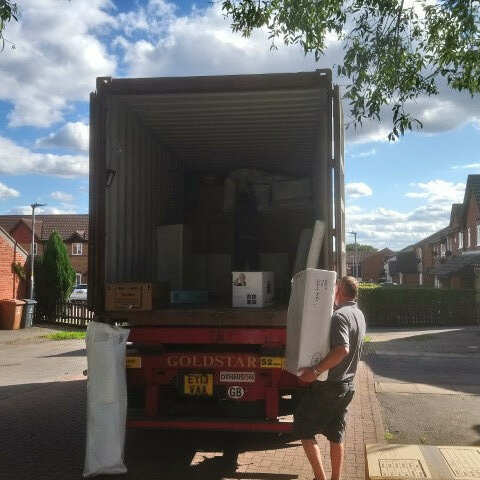 Dear Mr Clark,

Thank you so much for your Kind words, we really appreciate you taking the time to write such a detailed and lovely review. We are so pleased your international removal went like clock work particularly as you were moving so far from Bangkok. That can be a worry as the roads are not like the M25!!! We agree our packing teams here in the UK and delivery agents in Thailand are just fantastic and go the extra miles to assist our clients.

We hope your new house build goes very well and it won't be too long before you are unpacking and settled into your new home.

We are sending you our best wishes and hope you and your family are very happy in your new home.
Posted 1 year ago