"

Purchased Italian boots,comfort 10, fit 10, waterproof 10,delivery 10,very pleased don't pinch toes and use them a lot.Look good as well. Communication with GRS minus 10. Sent them an e-mail on their web site 6 weeks ago with 4 questions ???? Still awaiting an answer. Cheers!! Gavin, thanks for your comments and fair enough you seem to have replied to my original e-mail. If you read it I asked four questions and two were answered, replacing the sole wasn't nor was longevity. Constructively and for your info. I also purchased a heavier pair of boots from a competitor and they guarantee certain of their soles for 5000 miles, I will however consider you again when replacing other footwear because I think you have some good products. I'll give you 3 stars which I consider fair. Geoff

"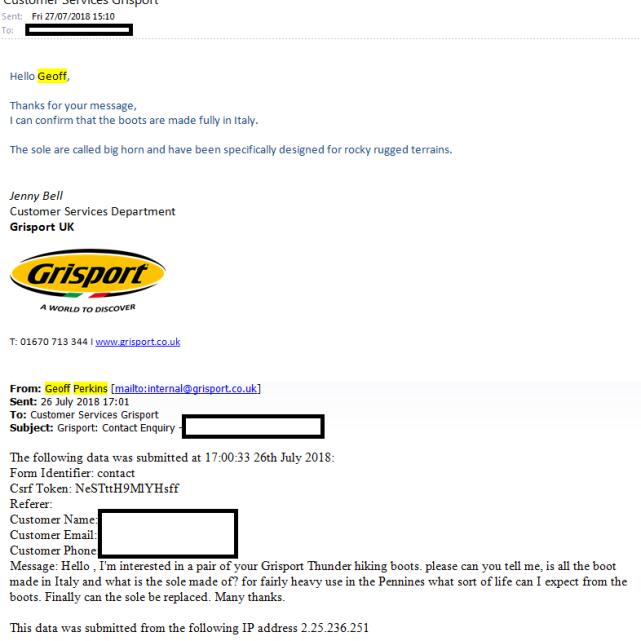 Hello Geoff,

Thank you for leaving us a review but we are sorry you felt you needed to leave a 2 star review based on our lack of communication. May I clear this up for you and assure you this is not the case.

Please find attached, a reply to your question which we sent to you on the 27th July at 15:10. It would seem on this occasion that you have not received this email thus prompting you to leave comment on our communication.

Here at Grisport UK we answer all queries as quick as possible to help our potential customers make choices on any purchases that they would like to make. We are available via email cs@grisport.co.uk and telephone 01670713344.

I hope you can now understand that we did reply to your initial question and you can see fit to alter your review to reflect the high level of service we provided from start to finish.

Kind regards,

Gavin Cole
Grisport customer services.
Posted 1 year ago
Grisport
is rated
4.87
based on
823
reviews